Yvette Gonzalez-Nacer is a Cuban American violinist and song-writter. She's bestknow for her character Kiki on the American Nickelodeon show " The Fresh Beat Band".
The Tinwoman
In a Freash Beat Band special called " The Wizard of Song " Yvette plays her character Kiki and her Oz counterpart, the Tin Woman. She plays the violin just like her real world counterpart and even says her catchphrase "Kicking". Marina and the Scarecrow come across her playing her violin  but she doesn't feel like she can play because she has no heart. So she joins them to see the Wizard of Song.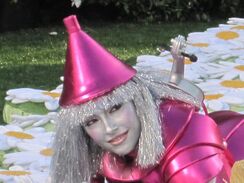 Ad blocker interference detected!
Wikia is a free-to-use site that makes money from advertising. We have a modified experience for viewers using ad blockers

Wikia is not accessible if you've made further modifications. Remove the custom ad blocker rule(s) and the page will load as expected.