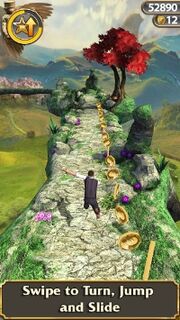 The Whimsie Woods is a location in the Land of Oz, seen in the mobile game Temple Run: Oz. The also appeared in Oz the Great and Powerful as the flowery tropical forest were Theodora discovered Oscar.
History
Oscar Diggs ran along the Yellow Brick Road, which runs through the region, to escape from the Wicked Witch's Flying Baboons after his arrival in Oz. (Temple Run: Oz)
Trivia
The Whimsie Woods may be named after the Whimsies, who in the books are not from Oz. However, it's possible they reside here in the movie continuity (as they are not seen in the film or in the game).
Ad blocker interference detected!
Wikia is a free-to-use site that makes money from advertising. We have a modified experience for viewers using ad blockers

Wikia is not accessible if you've made further modifications. Remove the custom ad blocker rule(s) and the page will load as expected.