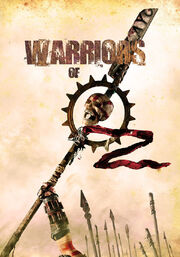 Warriors of Oz is a supposed upcoming miniseries that would be a re-imagining of The Wonderful Wizard of Oz. The miniseries is to be produced by SyFy, the same network behind Tin Man, which was also a re-imagining of Baum's original novel. Timur Bekmambetov is set to produce and direct.
The plot has been revealed to be around a warrior transported into a post-apocalyptic, futuristic Oz, where the warrior will team up with other warriors: Heartless, Brainless, and Coward. They must team up to battle the evil Wizard, who has taken over the land of Oz.
With no news since its' 2013 announcement, the status of this project is unclear.
External Links
Ad blocker interference detected!
Wikia is a free-to-use site that makes money from advertising. We have a modified experience for viewers using ad blockers

Wikia is not accessible if you've made further modifications. Remove the custom ad blocker rule(s) and the page will load as expected.