Unicorners is the location of a community of unicorns in the Munchkin Country of Oz.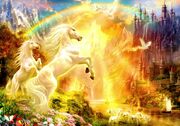 The community lives in a clearing in a forest, with a lantern bush at its center, and around its border are a hundred great trees. Each tree in hollowed out to make a stall for one of the hundred unicorns that live there. A clear pool of water reposes near the lantern bush; the unicorns enjoy contemplating their beauty in its reflections. The unicorns are attended by their servants, blue dwarfs, who dig in the earth and accumulate gems in the treasure tree of queen Roganda.
The beasts eat silver apples, which convey immunity against hunger for seven days. They swim in a river east of their forest when they are warm, and climb the mountains in the west when they are restless. Their lives are "pleasant and satisfactory." (Ojo in Oz)
Ad blocker interference detected!
Wikia is a free-to-use site that makes money from advertising. We have a modified experience for viewers using ad blockers

Wikia is not accessible if you've made further modifications. Remove the custom ad blocker rule(s) and the page will load as expected.