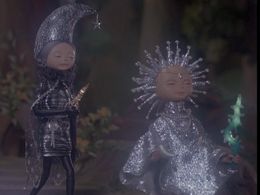 Twilight is a Prince of the Light Elves.
He carries a great snuffer and a big black cloak which can throw everything into darkness. For this reason, he is carefully watched by the King of the Light Elves. (The Life and Adventures of Santa Claus)
Ad blocker interference detected!
Wikia is a free-to-use site that makes money from advertising. We have a modified experience for viewers using ad blockers

Wikia is not accessible if you've made further modifications. Remove the custom ad blocker rule(s) and the page will load as expected.