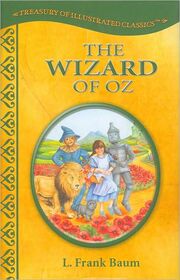 The Treasury of Illustrated Classics
published their own edition of
The Wizard of Oz
by
L. Frank Baum
with pictures by
W. W. Denslow
.
"Follow the adventures of Dorothy and her dog, Toto, after a cyclone whisks their house away from Kansas to a strange Land of Oz. In Oz, Dorothy makes some good friends. With her new comapnions, the Scarecrow, the Tin Woodman, and the Cowardly Lion, Dorothy goes to the Emerald City to see a powerful Wizard who can grant any wish. Or can he?"
Ad blocker interference detected!
Wikia is a free-to-use site that makes money from advertising. We have a modified experience for viewers using ad blockers

Wikia is not accessible if you've made further modifications. Remove the custom ad blocker rule(s) and the page will load as expected.