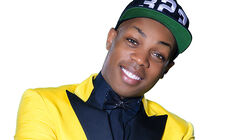 Toderick Hall
is a Youtube video star who has created various music videos along with some focused on aspects of
Oz
. He released his first album in 2016 entitled
Straight Outta Oz.
In 2013 he created a music video entitled "Todrick Hall's The Wizard of Ahhhs" which featured the group Pentatonix beat boxing various pop songs within an Oz storyline similar to Glee.
In 2015, he released a single called "Low" which is a reference to the noises the Winkies make in the 1939 film.
In 2016, he released his first visual album entitled Straight Outta Oz with 16 original Oz inspired songs.
Videos