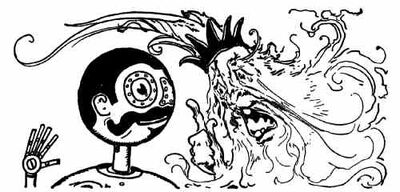 "Tiktok and the Nome King"
is an
Oz
short story written by
L. Frank Baum
, first published in 1913. The story is one of the six
Little Wizard Stories of Oz
.
In the tale, Tik-Tok travels from Oz to the Nome Kingdom in search of replacements for his worn parts. Tik-Tok, however, is not a diplomat, and angers Ruggedo the Nome King with a too-frank approach: "I'm not a-fraid of a fat Nome." (A tactless remark — but his thought-works need two new springs.) The enraged monarch strikes a blow that knocks the wind-up metal man in pieces. Yet the steward Kaliko puts the machine man back together. The Nome King is terrified when he thinks he confronts a "phantom clockwork man" — the idea of a robot's ghost probably being a unique innovation in world literature.
The Nome King is afraid that Ozma will be offended by his breaking Tik-Tok; so the machine man leaves the Nome Kingdom with a load of jewels, a gift for the Girl Ruler.
Ad blocker interference detected!
Wikia is a free-to-use site that makes money from advertising. We have a modified experience for viewers using ad blockers

Wikia is not accessible if you've made further modifications. Remove the custom ad blocker rule(s) and the page will load as expected.