Thomas Hobson began his acting career at the age of six. He Attended Yale University and graduated in 2004 with a B.A. in Theatre Studies. He has appeared on manyshows like " Malcolm in the Middle" but he's best known for he's character Shout on the American Nickelodeon show " The Fresh Beat Band"
Cowardly ( Scaredy-Cat) Lion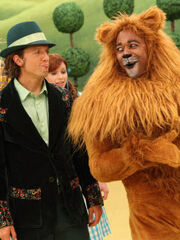 In a Fresh Beat Band special entitled " The Wizard of Song " Thomas plays his character Shout aswell as the Lion. In this story the Lion has an amazing singing voice, but is to shy to show it off in public. The trio pass by a bush where the lion is hiding and singing to himself. They love his singing and think he should come with them to see the wizard to get courage. And thats just what he does. The Wizard makes him realize that he had the courage to warn Marina that the Bad Witch was trying to steal her shoes. It's possible that Marina was more afraid of the Bad Witch than the Lion was because she knew that the Bad Witch was out to kidnap her.
Ad blocker interference detected!
Wikia is a free-to-use site that makes money from advertising. We have a modified experience for viewers using ad blockers

Wikia is not accessible if you've made further modifications. Remove the custom ad blocker rule(s) and the page will load as expected.