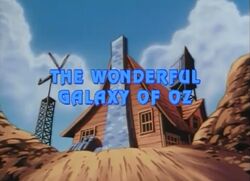 The Wonderful Galaxy of Oz, known in Japan as Space Oz no Bōken (スペースオズの冒険, 'Adventures of Space Oz'), is a Japanese Anime TV series which is a re-imagining of The Wonderful Wizard of Oz that was made in 1990.
Rather than being a land, Oz is now a whole galaxy, which must be navigated by spaceship.
Episodes
The series had 26 episodes in Japanese while a condensed English dubbed film version was made.
Dorothy Runs into the World of Oz
King of Oz's Surprising Secret
Crystal Empire Secret
World's Cowardly Hero
Sleeping Beauty of Mangabu
Chopper's Heart
Entrust Fashion to Me!
Babby-Sitter Crisis
Promise with Rockman Yabor
Scrapia of Scrapper
Grand Prix of Planet Car
Dorothy's Santa Claus
Chopper lover
Escape from Planet Game
Horror Birthday
Planet Water Rescue Mission
Toy Country War
Monster Panic
Crowded Amusement Park
Planet that Father and I Defended
Legend of Captain Garo
Return to the Alherihit Hometown
Film Star Glumilda
Reunion with Doctor Oz
Return of the Witch From the West
Miracle of the Rainbow Crystal