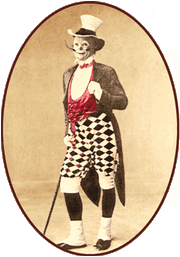 The Woggle-Bug
was a 1905 stage musical written by
L. Frank Baum
based on his book,
The Marvelous Land of Oz
. The music for the show was written by
Frederic Chapin
.
Baum hoped to duplicate the success of his earlier production of The Wizard of Oz. The book featured an army of girls that was portrayed onstage by a chorus line, and he teamed the Wogglebug and Jack Pumpkinhead as a new comic duo. The show was unsuccessful, however; it opened at the Garrick Theater in Chicago on 18 June 1905, and closed on 13 July of the same summer.
Ad blocker interference detected!
Wikia is a free-to-use site that makes money from advertising. We have a modified experience for viewers using ad blockers

Wikia is not accessible if you've made further modifications. Remove the custom ad blocker rule(s) and the page will load as expected.