The Wizard of Oz on Ice toured from 1996-1999. It was based on the MGM film and featured a pre-recorded soundtrack with the voices of Shanice (as Dorothy Gale) and Bobby McFerrin (as everyone else in Kansas and Oz). The production toured nationally and internationally and starred Jeri Campbell as Dorothy and Andri Kirov as the Scarecrow. A 1996 CBS television adaptation featured Oksana Baiul as Dorothy, Victor Petrenko as the Scarecrow, Claire Holden as Glinda, and Nancy Barber as Miss Gulch/Wicked Witch of the West.
The television special was filmed by Feld Entertainment in Palmetto, Florida.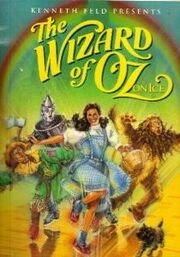 Ad blocker interference detected!
Wikia is a free-to-use site that makes money from advertising. We have a modified experience for viewers using ad blockers

Wikia is not accessible if you've made further modifications. Remove the custom ad blocker rule(s) and the page will load as expected.