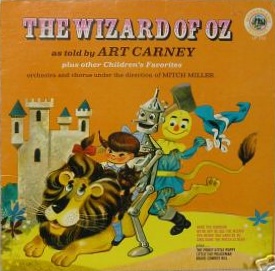 | | |
| --- | --- |
| Songs from  | |
| Released  | 1974 |
| Format  | LP |
| Label  | Wonderland |
| Catalogue no.  | LP 153 |
"The Wizard of Oz as told by Art Carney" plus other children's stories features an orchestra and chorus under the direction of Mitch Miller. It is a re-telling of The Wonderful Wizard of Oz and includes songs from the 1939 movie.
Tracks
Over the Rainbow
We're Off to See the Wizard
The Merry Old Land of Oz
Ding Dong the Witch is Dead
The Pokey Little Puppy
Little Fat Policeman
Brave Cowboy Bill
Ad blocker interference detected!
Wikia is a free-to-use site that makes money from advertising. We have a modified experience for viewers using ad blockers

Wikia is not accessible if you've made further modifications. Remove the custom ad blocker rule(s) and the page will load as expected.