Welcome to The Wonderful Wiki of Oz!
An encyclopedia of All Things Oz that anyone can edit
About us
This wiki is dedicated to the task of collecting and displaying to the public information regarding the world surrounding the Land of Oz created by author L. Frank Baum in his original series of books, which was continued by other authors and explored further in print, on the stage, and on the silver screen with many canon continuation and adaptations.
Browse The Wizard of Oz Wiki
Featured Article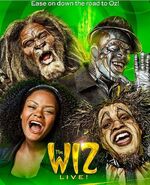 The Wiz Live! is the live-television adaptation of the Broadway show that aired on December 3rd, 2015. The show was co-produced with Cirque du Soleil. Since the original show began touring in 1975, this new version came for the 40th anniversary of the original.
Featured Video