The Wizard of Oz Original Motion Picture Soundtrack: The Deluxe Edition
Talk

0
Share
Ad blocker interference detected!
Wikia is a free-to-use site that makes money from advertising. We have a modified experience for viewers using ad blockers

Wikia is not accessible if you've made further modifications. Remove the custom ad blocker rule(s) and the page will load as expected.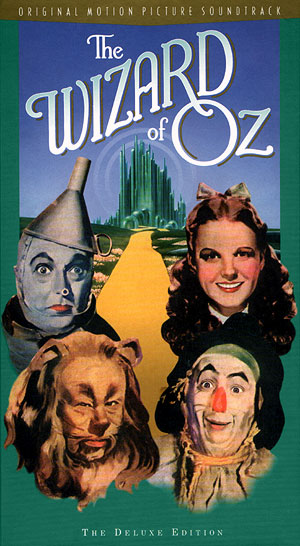 | | |
| --- | --- |
| Songs from  | The Wizard of Oz |
| Released  | 1995 |
| Format  | CD |
| Label  | Rhino Records |
| Catalogue no.  | R2 71964 |
The Wizard of Oz Original Motion Picture Soundtrack: The Deluxe Edition is a special edition of the motion picture soundtrack released in 1995. It was presented in a "long box" format with a comprehensive 48-page, full-color book by Jon Fricke entitled, "The Wizard of Oz: An Appreciation and Brief History of the Film and an Annotated Guide to the Original Motion Picture Soundtrack Produced by Marilee Bradford and Bradley Flanagan."
Table of Contents
The Musical Program
Chapter One: "If Ever, Oh, Ever a Wiz There Was..." — An Appreciation
Chapter Two: "And the Dreams That You Dare to Dream..." — The Making of Oz
Chapter Three: "Clip, Clip Here, Clip, Clip, There..." — Composing the Score / Editing the Film
Chapter Four: "We Haven't Really Met Properly..." — Arlen, Harburg, and Stothart
Chapter Five: "It Really Was No Miracle—What Happened Was Just This..." — The Story, Songs and Music
Chapter Six: Producer's Notes
Track listing
Disc 1
Main Title - The MGM Studio Orchestra And Chorus
Trouble In School (Extended Version)
Farmyard (Outtake)
Miss Gulch (Extended Version)
Leaving Home
Crystal Gazing (Extended Version)
Cyclone (Extended Version)
Munchkinland - The MGM Studio Orchestra And Chorus
I'm Not A Witch
Munchkinland Musical Sequence
Come Out, Come Out... - Billie Burke/The Munchkins
It Really Was No Miracle - Judy Garland/Billy Bletcher/The Munchkins
We Thank You Very Sweetly - Joseph Koziel/Frank Cucksey
Ding-Dong! The Witch Is Dead - The Munchkins
As Mayor of The Munchkinland City - Billy Bletcher/Pinto Colvig/J.D. Jewkes
As Coroner, I Must Aver - Harry Stanton
Ding-Dong! The Witch Is Dead (Reprise) - The Munchkins
The Lullaby League - Lorraine Bridges/Betty Rome/Carol Tevis
The Lollipop Guild - Billy Bletcher/Pinto Colvig/Harry Stanton
We Welcome You To Munchkinland - The Munchkins
Threatening Witch (Extended Version)
Leaving Munchkinland
Good Fairy Vanishes
Follow The Yellow Brick Road/You're Off To See The Wizard - Judy Garland/The Munchkins
The Cornfield
If I Only Had a Brain (Extended Version) - Ray Bolger/Judy Garland
We're Off to See the Wizard (Duo) - Judy Garland/Ray Bolger
The Apple Orchard (Extended Version)
If I Only Had a Heart (Extended Version) - Jack Haley
Witch On Roof (Extended Version)
Bees And Tin Woodman Lament (Partial Outtake)
We're Off to See the Wizard (Trio) - Judy Garland/Ray Bolger/Buddy Ebsen
Into The Forest of Wild Beasts
The Lion's Confession (Outtake)
If I Only Had The Nerve - Bert Lahr/Ray Bolger/Jack Haley/Judy Garland
We're Off to See the Wizard (Quartet) - Bert Lahr/Ray Bolger/Buddy Ebsen/Judy Garland
Poppies
The Spell (Extended Version)
Optimistic Voices
Sign On The Gate/The City Gates Open (Extended Version)
The Merry Old Land of Oz - Frank Morgan/Judy Garland/Ray Bolger/Jack Haley
Change of The Guard (Outtake)/Wizard's Exit
If I Were King of The Forest (Extended Version) - Bert Lahr/Judy Garland/Ray Bolger/Jack Haley
At The Gates of Emerald City (Extended Version)
Magic Smoke Cords
Terrified Lion
Disc 2
The Haunted Forest (Extended Version)
The Jitterbug (Outtake) - Judy Garland/Ray Bolger/Jack Haley/Buddy Ebsen
The Jitterbug's Attack (Extended Version)
The Witch's Castle (Extended Version)
Toto Brings News (Extended Version)/Over the Rainbow (Reprise)(Outtake) - Judy Garland/The MGM Studio Orchestra
March of The Winkies (Extended Version)
Dorothy's Rescue (Extended Version)
On The Castle Wall (Extended Version)
Ding-Dong! Emerald City (Outtake) - The MGM Studio Chorus/Ken Darby
The Wizard's Expose (Extended Verison)/Emerald City Graduation Exercises
Fill-In Awards/I Was Floating Through Space/Balloon Ascension/Second Cheer
I Hereby Decree
Delirious Escape (Extended Version)/Delirious Escape Continued/End Title
Supplemental Material
Main Title (Alternate Take With Unused Tag)
Over the Rainbow (Partial Take) - Judy Garland
Over the Rainbow (Alternate Take) - Judy Garland
Cyclone (Final Film Version)
Munchkinland Insert (Alternate Tag)
I'm Not A Witch (Alternate Version)
Munchkinland Musical Sequence (Rehearsal Demo) - Harold Arlen, E.Y. Harburg
Ding-Dong! The Witch Is Dead (Alternate/A Capella Choir Version) - The MGM Studio Chorus
The Lollipop Guild (Orginal Munchkin Actors' Voices) - Three Unidentified Midgets
Follow The Yellow Brick Road/You're Off To See The Wizard (Orchestral Angles)
If I Only Had a Brain (Unused Dance Music)
If I Only Had A Heart (Unused Version) - Buddy Ebsen
The Lion's Confession (Outtake/Alternate Arrang.)
Poppies (Alternate Version With Heavenly Choir)
Optimistic Voices (Rehearsal Demo) - Harold Arlen, E.Y. Harburg
Optimistic Voices (Alternate Vocal Arrangement) - The Debutantes And The Rhythmettes
The Merry Old Land of Oz (Orchestral Angles)
If I Were King of The Forest (Partial Take/Alternate Vocal Tag) - Bert Lahr, Judy Garland, Ray Bolger, Buddy Ebson
If I Were King of The Forest (Alternate Vocal Tag) - Bert Lahr, Judy Garland, Ray Bolger, Buddy Ebson
The Jitterbug (Choreography Rehearsal) - Dona Massin, Ray Bolger, Buddy Ebsen, Bert Lahr
Over the Rainbow (Reprise)(Outtake/Alternate Version) - Judy Garland
Ding-Dong! Emerald City (Alternate Version)
End Title (Alternate Version)