The Wizard of Oz is a animated television series based on the 1939 film. It was produced by DiC and aired on ABC in 1990.
Plot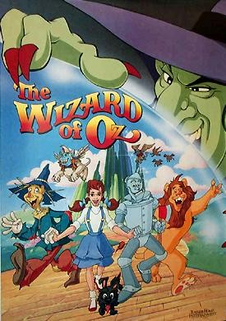 In the series, Dorothy Gale uses the magic of the ruby slippers to return herself and Toto to the Land of Oz. They immediately reunite with the Scarecrow, Tin Man, and Lion. Glinda arrives and tells Dorothy that Truckle and the Winged Monkeys that were loyal to the Wicked Witch of the West have performed an evil ritual that brought her back to life. She takes over the Emerald City, steals the gifts belonging to Dorothy's friends, and casts a spell that causes an evil wind to constantly blow the Wizard's hot air balloon around. Dorothy and her friends set out to rescue him, and defeat the Witch once and for all.
Episodes
"Rescue of the Emerald City" Pt. 1 (September 8, 1990) -
"Rescue of the Emerald City" Pt. 2 (September 15, 1990) -
"Fearless" (September 22, 1990) -
"Crystal Clear" (September 29, 1990) -
"We're Not in Kansas Anymore" (October 6, 1990) -
"The Lion that Squeaked" (October 13, 1990) -
"Dream a Little Dream" (October 20, 1990) -
"A Star is Gone" (October 27, 1990) -
"Time Town" (November 3, 1990) -
"The Marvelous Milkmaid of Mechanica" (November 10, 1990) -
"Upside-Down Town" (November 17, 1990) -
"The Day the Music Died" (November 24, 1990) -
"Hot Air" (December 1, 1990) -
Principal cast
Additional voices
Jack Angel -
Hamilton Camp -
Bibi Osterwald -
Rob Paulsen -
Ken Sansom -
Susan Silo - Munchkin Mayor
Crew
Susan Blu - Voice Director
Ginny McSwain - Casting Director
Ad blocker interference detected!
Wikia is a free-to-use site that makes money from advertising. We have a modified experience for viewers using ad blockers

Wikia is not accessible if you've made further modifications. Remove the custom ad blocker rule(s) and the page will load as expected.