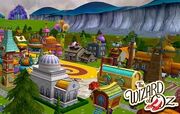 The Wizard of Oz was a facebook game app that allowed the player to build Munchkinland, constructing by buildings and roads. The game was based on the 1939 film, and includes music and movie clips from that film.
The player had to expand the Yellow Brick Road and the Red Brick Road to advance to the Emerald City while meeting the Scarecrow, Tin Man, and Lion along the way.
For some reason, the game became defunct in 2014 likely due to lack of players (only about 100K in its prime) and the need to buy special emeralds with real cash to continue parts of the game unless the player had a certain number of friends also playing the game who could help them continue.
Gallery
Ad blocker interference detected!
Wikia is a free-to-use site that makes money from advertising. We have a modified experience for viewers using ad blockers

Wikia is not accessible if you've made further modifications. Remove the custom ad blocker rule(s) and the page will load as expected.