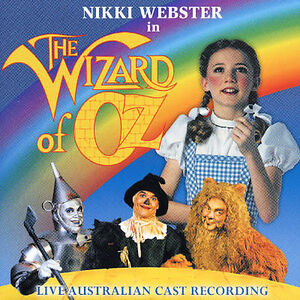 | | |
| --- | --- |
| Songs from  | The Wizard of Oz (Australia Production) |
| Released  | 2001 |
| Format  | CD |
| Label  | BMG Australia |
| Catalogue no.  | 0743219113429 |
This is a live recording of the Australian revival of The Wizard of Oz in 2001, based on MGM's 1939 movie. It features Nikki Webster in the role of Dorothy Gale.
Track Listing
Overture
Over The Rainbow
Cyclone
Come Out Come Out
It Really Was No Miracle
We Thank You Very Sweetly
Ding Dong! The Witch Is Dead
As Mayor Of The Munchkin City
As Coroner I Must Aver
Ding Dong! The Witch Is Dead (Reprise)
Lullaby League
Lollipop Guild
We Welcome You To Munchkinland
Follow The Yellow Brick Road-You're Off To See The Wizard
If I Only Had A Brain
We're Off To See The Wizard (Duo)
If I Only Had A Heart
We're Off To See The Wizard (Trio)
Lions, Tigers And Bears
If I Only Had The Nerve
We're Off To See The Wizard (Quartet)
Out Of The Woods
Entr'acte
Merry Old Land Of Oz
If I Were King Of The Forest
Jitterbug
Witchmelt
Curtain Calls
Over The Rainbow (Reprise)
Ad blocker interference detected!
Wikia is a free-to-use site that makes money from advertising. We have a modified experience for viewers using ad blockers

Wikia is not accessible if you've made further modifications. Remove the custom ad blocker rule(s) and the page will load as expected.