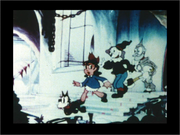 After being
filmed in 1925
,
The Wizard of Oz
was next made into an animated cartoon in 1933. Canadian animation pioneer Ted Eshbaugh created an eight-minute film from a script by
Frank Joslyn Baum
. It was one of the first works of animation to be made in color and to have a complete soundtrack. Eshbaugh, however, ran into a legal conflict with the Technicolor Corporation that prevented distribution.
The famous MGM film that followed in 1939 borrowed several elements from Eshbaugh's version: the switch from black and white to Technicolor and the carriage procession through the Emerald City have precedents in Eshbaugh's cartoon.
This animated film is one of the rarest items in the entire canon of Oz-related works.
---
Also in the 1930s, animator Kenneth L. McLellan tried to create a version of the second Oz book. He gained the support of Baum's widow Maud Gage Baum, but never found financing for his The Land of Oz.
References
David L. Greene and Dick Martin. The Oz Scrapbook. New York, Random House, 1977.
Jay Scarfone and William Stillman. The Wizardry of Oz: The Artistry and Magic of the 1939 M-G-M Classic. Milwaukee, WI, Hal Leonard Corp., 2004.
Ad blocker interference detected!
Wikia is a free-to-use site that makes money from advertising. We have a modified experience for viewers using ad blockers

Wikia is not accessible if you've made further modifications. Remove the custom ad blocker rule(s) and the page will load as expected.