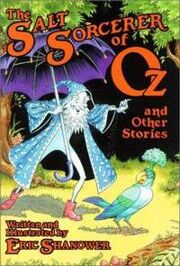 The Salt Sorcerer of Oz and Other Stories is a collection of Eric Shanower's short fiction and verse on Oz subjects and themes. The book was published in 2002 by Hungry Tiger Press. It is illustrated by the author.
The collection contains:
"Kabumpo" (poem)
"The Final Fate of the Frogman"
"The Glass Cat" (poem)
"Parts Unavailable" (poem)
"The Balloon-Girl of Oz"
"Menu" (poem)
"Ode to Brains" (poem)
"The Silver Jug"
"In Blue-Green Lands" (poem)
As their titles indicate, Shanower draws upon many established Oz characters, including Dorothy Gale, The Scarecrow, the Patchwork Girl, Kabumpo, and the Glass Cat, among others.
Seven of the pieces were previously printed in the annual issues of Oz-story Magazine. "Dorothy and the Mushroom Queen" was printed under the pseudonym "Janet Deschman." "The Ballon-Girl of Oz" appeared under the pen name "Stephen Kane."
The story "The Silver Jug" was originally published in an unfinished form, as part of a contest: entrants provided their own conclusions to the story. Two winning entries, written by Margaret Berg and Frederick E. Otto, appeared in Oziana in 1994.