IMDb rating

5.7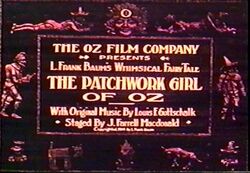 The Patchwork Girl of Oz is a silent movie produced in 1914 by the Oz Film Manufacturing Company. It was based on L. Frank Baum's book of the previous year, The Patchwork Girl of Oz.
The five-reel film was the first produced by Baum's company. It was directed by J. Farrell MacDonald and featured Violet MacMillan as Ojo, with Frank Moore as Unc Nunkie, and Fred Woodward tripling roles as the Woozy, Mewel the mule, and a mysterious creature called the Zoop. Harold Lloyd played the Cowardly Lion and a Tottenhot. The title role of Scraps was filled by French acrobat Pierre Couderc.
The film was completed in July 1914 and distributed by Paramount Pictures, but was not a commercial success. Its failure impacted the distribution of the subsequent Oz company films, and led to the firm's early collapse.
Film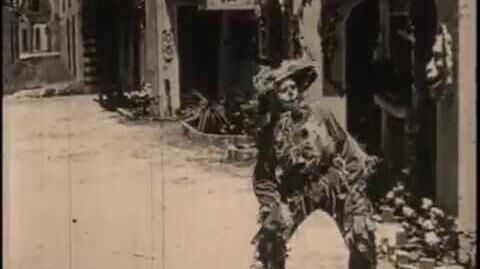 Gallery
External links
Ad blocker interference detected!
Wikia is a free-to-use site that makes money from advertising. We have a modified experience for viewers using ad blockers

Wikia is not accessible if you've made further modifications. Remove the custom ad blocker rule(s) and the page will load as expected.