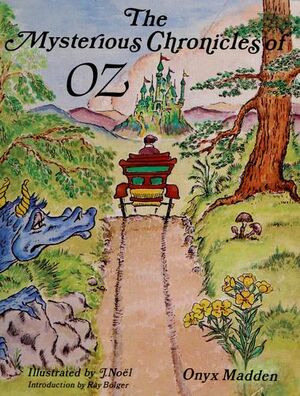 The Mysterious Chronicles of Oz, or Tip and the Sawhorse of Oz is a modern-day Oz book, written by James E. Nitch under the pen name "Onyx Madden," and illustrated by J. Noel. It was originally published in 1985, in an edition that featured an Introduction by Ray Bolger, who played the Scarecrow in the 1939 MGM film of The Wizard of Oz.
Nitch sets his story after the events of L. Frank Baum's second Oz book, The Marvelous Land of Oz. Princess Ozma is not yet reconciled to her recent change of gender; she dresses as Tip once again, and sneaks away with the Sawhorse for a series of adventures, including her first meetings with the Cowardly Lion and the Hungry Tiger, plus encounters with the Hammerheads, Fighting Trees, the dragon Quox, and other elements of Baum's Oz.
Nitch's book has won praise for Noel's lush illustrations, which include six full-color plates and 150 line drawings. The book resembles the original Oz books in this respect, more than most modern Oz stories do.
Later writers have followed Nitch's example in treating the Tip/Ozma gender change. Melody Grandy's trilogy The Seven Blue Mountains of Oz is a prominent example. Edward Einhorn's 1997 short story "Ozma Sees Herself" involves the same subject.
External links
Ad blocker interference detected!
Wikia is a free-to-use site that makes money from advertising. We have a modified experience for viewers using ad blockers

Wikia is not accessible if you've made further modifications. Remove the custom ad blocker rule(s) and the page will load as expected.