Ad blocker interference detected!
Wikia is a free-to-use site that makes money from advertising. We have a modified experience for viewers using ad blockers

Wikia is not accessible if you've made further modifications. Remove the custom ad blocker rule(s) and the page will load as expected.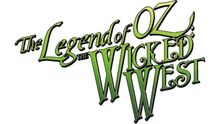 The Legend of Oz: Wicked West is an ongoing comic book series published by Big Dog Ink, written by Tom Hutchinson with art by Alisson Borges and colors by Kate Finnegan. It is set in a reimanging of the Land of Oz as a western and is thus a unique alternate Oz.
Summary
Take a trip back over the rainbow, to an Oz you never knew existed. Dorothy Gale and her new found friends have found the Emerald City, but it isn't exactly what they expected.
Print Publications
The Legend of Oz : The Wicked West Vol. 1 - Over the Rainbow (2012)
The Legend of Oz : The Wicked West Vol. 2 - South (2013)
The Legend of Oz : The Wicked West Vol. 3 (2013)
Characters