The Land of Oz was the first episode of season 2 of Shirley Temple's Storybook.
Plot
Lord General Nikidik wants to take over Oz, so he goes to Mombi and asks her to transform the beloved Princess Ozma into a marble statue. Mombi instead changes her into a boy, Tip, to be her servant, with no memory of her former life.
Cast
Shirley Temple as Ozma/Tip
Jonathan Winters as Lord General Nikidik
Agnes Moorehead as Mombi
Ben Blue as Scarecrow
Sterling Holloway as Jack Pumpkinhead
Gil Lamb as Tin Woodman
Arthur Treacher as Graves
Frances Bergen as Glinda
Charles Boaz as Colonel
Mari Lynn as Jellia Jamb
Norman Leavitt as Lightning Bug Repairman
Louis Merrill as Court Doctor
Mel Blanc as Sawhorse
Maurice Dallimore as Gump
William Keene as the Royal Army of Oz
External links
Clips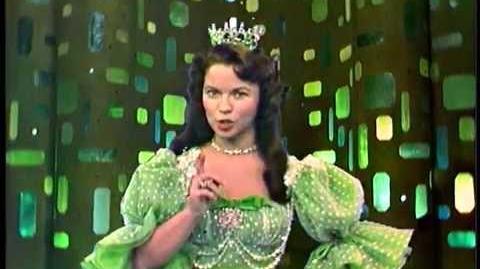 Ad blocker interference detected!
Wikia is a free-to-use site that makes money from advertising. We have a modified experience for viewers using ad blockers

Wikia is not accessible if you've made further modifications. Remove the custom ad blocker rule(s) and the page will load as expected.