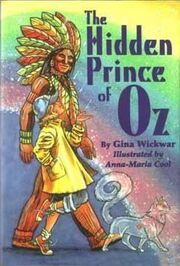 The Hidden Prince of Oz is a modern Oz novel, written by Gina Wickwar, illustrated by Anna-Maria Cool, and published by The International Wizard of Oz Club in 2000. The publication of the book was timed to coincide with the centennial of The Wonderful Wizard of Oz, as was also true of Edward Einhorn's Paradox in Oz and David Hardenbrook's The Unknown Witches of Oz.
Summary
Wickwar follows the pattern of her many predecessors, in choosing a contemporary American child as her protagonist. Emma Lou is a baseball-pitching tomboy orphan from Arizona. She is transported to Oz by the influence of Chief Thundercloud, an animated wooden Indian. (L. Frank Baum had a similar character in his John Dough and the Cherub.) In Oz, Emma Lou falls in with a host of characters old and new, including the Glass Cat, Polychrome, the Wizard of Oz, and the Tin Woodman. Emma Lou and friends contend with the machinations of Zeebo the Sorcerer, among imaginative elements that include Snap Dragons and Dragon Flies, a Babbling Brook and Caterwauling Cataracts, Silica Valley and the Magnetic Field.
Background
Wickwar's novel was the winner of the Oz centennial fiction contest sponsored by The International Wizard of Oz Club in the late 1990s. For another entrant in the contest, see John W. Kennedy's A Grown-Up in Oz.
External links