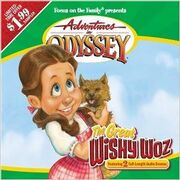 The Great Wishy Woz
is a radio play that parodied the Oz story (
1939 film
version) for a Christian audience. It was produced by Focus on the Family for their
Adventures in Odyssey
series, a Christian radio program, and originally aired in two parts in 2000.
In this version, Manny Kin, Metal Guy, and Mystical Mountain Lion, figures adapted from the Scarecrow, the Tin Woodman, and the Cowardly Lion respectively, pursue self-improvement in the form of "smarts", love, and power.  Dotty (Dorothy) only wants to find a way back home, and eventually finds it down a path none of the others are willing to follow.
Many of the elements of Oz are present in altered form:
John Fornof wrote the script.
Ad blocker interference detected!
Wikia is a free-to-use site that makes money from advertising. We have a modified experience for viewers using ad blockers

Wikia is not accessible if you've made further modifications. Remove the custom ad blocker rule(s) and the page will load as expected.