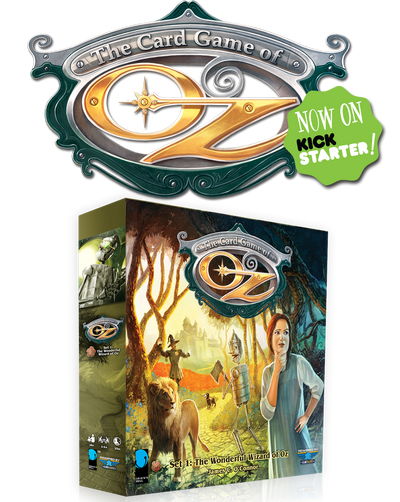 The Card Game of Oz is card game roleplay series created by James C. O'Conner based on L. Frank Baum's Oz books. It was first announced as a idea presented at The International Wizard of Oz Club convention in 2010 and through fundraising on Kickstar, the first set was released in 2014 based on The Wonderful Wizard of Oz along with a second set being based on The Marvelous Land of Oz. In 2018, a new edition was annouced to be released. The game was first published through Game Salute but was switched to Orion's Bell as the result of a legal dispute as the creator did not like that Set 1 had to be owned to play Set 2 which was published an expansion.
Publisher's Description
Over 100 years ago L. Frank Baum introduced the world to the wondrous Land of Oz. Now, experience these familiar characters, fantastic locations, and disturbing creatures as never before imagined. The Card Game of Oz utilizes an innovative new game system we call Storyline Game System™ that adds strategy to your challenging and fun adventures through Oz.
Links