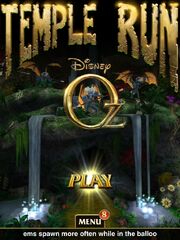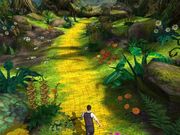 Temple Run: Oz is a mobile game for iOS (iPhones, iPads, etc.) which is based on Disney's film, Oz the Great and Powerful. The game is also part of the popular Temple Run series of games, in which the player must run along a path, avoiding obstacles, to infinity.
Gameplay
The player plays as Oscar Diggs as he runs along the Yellow Brick Road, and occasionally off it. He must jump over fallen rubble and tree roots, while ducking under Winged Baboons that try to seize him.
The player must make sharp turns and react quickly to sudden obstacles. There is a segment where Oz gets into his balloon and flies through the clouds, before returning to the ground.
Locations
See Also
Ad blocker interference detected!
Wikia is a free-to-use site that makes money from advertising. We have a modified experience for viewers using ad blockers

Wikia is not accessible if you've made further modifications. Remove the custom ad blocker rule(s) and the page will load as expected.