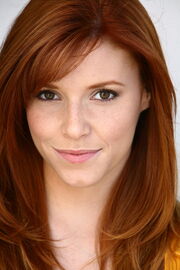 Tara Marie Perry
(born December 9, 1985) is a dynamic and diverse actress and comedian from Jonesboro, Arkansas. She portrays
Marina
the drummer from the hit TV show
The Fresh Beat Band
starting with season 3, replacing Shayna Rose, who portrayed Marina in seasons 1 and 2. 
Tara played the Dorothy character in The Wizard of Song, a FBB TV movie parody of 1939's The Wizard of Oz and it's her favorite episode of the FBB.
Early Life
Tara Perry was born to John and Stacy Perry on December 9, 1985, in Jonesboro, Arkansas. Perry started dancing at the age of 5. She did tap, ballet, jazz, hip hop, and clogging. Perry always wanted to play an instrument but couldn't decide what instrument she wanted to play, so her father suggested she play the drums. So Perry got a Roxx Jr. set from Christmas that year and started taking lessons at BatBeat for a couple of years. But unfortunately she never got to play drums in the band at school because it interferred with all the sports she was playing.
Pageant Pretty
Perry competed in pageants as a teenager. Her sister Blair brought home a flier from school about competing in a pageant. Perry competed and won. She was Miss Teen Northeast Arkansas 2001, Miss Teen Jonesboro 2002, and Arkansas Junior Miss 2004.
Perry Talks Jonesboro
While Perry's character on The Fresh Beat Band is all smiles and happiness, her own life hasn't always been that way. When Perry was in the sixth grade, two students at a nearby middle school killed five females and wounded ten other people. The shooting at Westside Middle School was the most violent middle school shooting in USA history.
Perry was a student at a different Jonesboro middle school, but the incident hit home--and changed things for her and her classmates. She walked into the principal's office and saw every classroom door open and TVs on to CNN.  Perry recalls recognizing the names and being struck that someone her age would do such a terrible thing like that. And at Christmas time, a  lot of yards had five angels in memory of the five females killed in the shooting.
Playing Marina On The Fresh Beat Band
Perry auditioned for the role of Marina on The Fresh Beat Band along with 500 other girls starting with October 2010. As part of her audition, she sang a Katy Perry song, did two scenes from season 2, and played the drums. She got five callbacks after that until she got a callback on December 9, 2010 (her 25th birthday) saying that she landed the role of Marina. Perry's first episode as Marina was Graduation Day.