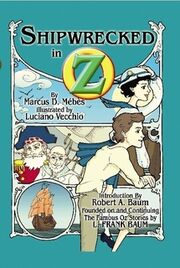 Shipwrecked in Oz is a modern-day Oz novel written by Marcus Mebes and illustrated by Luciano Vecchio. It was first published in book form in 2008, though an earlier version of the story dates from 2003. The book features an Introduction by Robert A. Baum, a great-grandson of L. Frank Baum.
The book is available from Lulu.com, and can be downloaded for free.
Summary
Jinnicky the Red Jinn decides to relieve his boredom by taking a sea voyage. A sudden storm drives his red-glass ship into a collision with the Crescent Moon, the vessel of Captain Samuel Salt. Salt's crew includes its standard members, King Ato and Roger the Read Bird, along with King Tandy of Ozamaland and two newcomers, Trot and Cap'n Bill. Salt's ship has been enchanted by Princess Ozma and the Wizard of Oz, making it resistant to disaster. Jinnicky's ship does not share that benefit. Those on the Crescent Moon manage to rescue Jinnicky's four servants, but Jinnicky himself goes down with his ship, sealed in his personal red jar.
Captain Salt and his crew launch a rescue attempt for Jinnicky — but they quickly fall afoul of a malevolent being named Menisthles, a hybrid eel-man similar to a merman. The humans meet two of the local mer-folk, a maid named Orpa and her mate, Arko, who inform them of Menisthles' villainous actions. Together, and with big doses of Jinnicky's magic, the humans and mer-folk combine to rescue each other from Menisthles, and put an end to the eel-man's oppressions.
The novel ends with a beach party among all the participants.
Illustrations
The book is lushly illustrated by Luciano Vecchio, with nineteen full-page illustrations and two double-page spreads at the end of the book. Judging from his images of Ozma and the Wizard, Vecchio has been influenced by the style of Eric Shanower.
Ad blocker interference detected!
Wikia is a free-to-use site that makes money from advertising. We have a modified experience for viewers using ad blockers

Wikia is not accessible if you've made further modifications. Remove the custom ad blocker rule(s) and the page will load as expected.