Ruler of Beasts is the sixth prequel novella in the Dorothy Must Die series. It was released electronically on February 16th, 2015 and is included in Dorothy Must Die Stories Volume 2 with Heart of Tin and The Straw King.
Plot
Taking place one year after
Ozma
takes the throne, the once
Cowardly Lion
has become bored with nothing eventual in
Oz
happening and creates a battle tournament for the beasts of the forest, with the twist of the loser animal being eaten by him.After the Lion gets bored of watching this, he ends it and Glinda shows up suggesting he should go to the Emerald City to led Ozma's Army and become her personal body guard. While there, he is to fetch a ruby necklace left by the Wizard. After days of searching around the palace for the necklace, the Lion becomes bored again but doesn't stay that way for long as Ozma alerts him of an impending crisis. This crisis is an upcoming war and invasion of Oz by the
Nome King
, so they travel underground to confront him.The Nome King suggests that the Lion and Ozma wager the freedom of Oz by playing his game in enchanting Ozma into an object and having the Lion pick out which one is really her. Ozma agrees knowing the Lion can figure it out but he is very unsure and picks the wrong ones. On his final try he uses his nose and is able to track Ozma's scent to find her statuette which was sort of buried in the ground with the Nome King intending him to not pick it.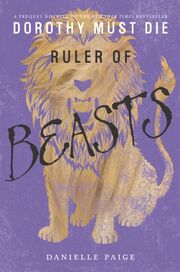 Trivia
This entry parallels much of Ozma of Oz but however, it does not feature many characters such as Dorothy, the Hungry Tiger, and Tik-Tok among others.
The Nome King wearing the Ruby necklace is a reference to 1985's Return to Oz when he was found wearing the Ruby Slippers.
In the canonical book, Dorothy is saving the enchanted Royal Family of Ev whereas the Lion is playing the game to save Ozma.

Also instead of different looking ornaments, Ozma was enchanted into small statuettes of herself.

The Lion's tournament is similar to the Hunger Games book series
Danielle Paige's Dorothy Must Die series