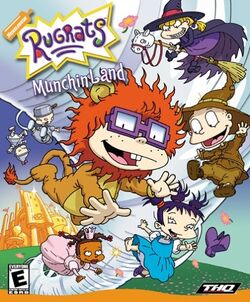 Rugrats: MunchinLand is a computer video game based on the Nickelodeon animated series Rugrats and The Wizard of Oz. It was released by THQ on September 23, 2002.
Roles
Like in the Rugrats episode "No Place Like Home", the game casts Angelica in the role of the Wicked Witch of the West, and Tommy, Chuckie, Phil, and Lil again portray the same companions, this time with the characters even wearing the outfits of the Oz characters they're portraying. Unlike "No Place Like Home", though, the role of Dorothy Gale is now given to Kimi, while Susie now plays the role of Glinda. Additionally, Grandpa Lou portrays the role of the Wizard, with Dil as the toolbooth keeper.
See also
Ad blocker interference detected!
Wikia is a free-to-use site that makes money from advertising. We have a modified experience for viewers using ad blockers

Wikia is not accessible if you've made further modifications. Remove the custom ad blocker rule(s) and the page will load as expected.