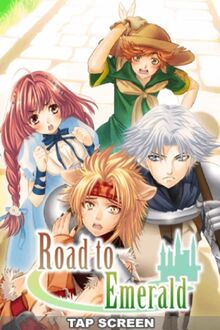 Road to Emerald is a Dating-Sim Adventure game that loosely based on the Wonderful Wizard of Oz.
Genre: Dating-Sim, Adventure Release dates (iPhone)
Japan: January 25th, 2010
North America: March 1st, 2010
The game is about a young girl, that reads a book and ends up in the world of The Wizard of Oz. The game doesn't really goes deep into the story, but the main activities have been used. You get to meet 3 dateable guys. Each with their own personality. Who will you choose?
"I took the same old way home. That's when I entered a peculiar bookshop on a whim and opened a book titled 'The Wizard of Oz'.
Soon enough, I found myself in the Magic Kingdom, where I met friends such as Otto the Scarecrow, Gragg the Tin Man, and Friday the Lion.
Right now, we're on a journey to find Oz - the wizard who is said to be able to grant wishes - living in Emerald City. Will I be able to return to my world?

Characters:
Ad blocker interference detected!
Wikia is a free-to-use site that makes money from advertising. We have a modified experience for viewers using ad blockers

Wikia is not accessible if you've made further modifications. Remove the custom ad blocker rule(s) and the page will load as expected.