Ad blocker interference detected!
Wikia is a free-to-use site that makes money from advertising. We have a modified experience for viewers using ad blockers

Wikia is not accessible if you've made further modifications. Remove the custom ad blocker rule(s) and the page will load as expected.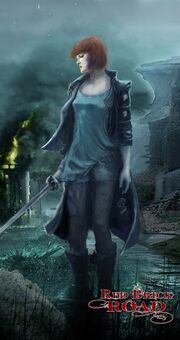 Red Brick Road is an Oz TV series, developed by Lifetime. The series, like Emerald City, is being described as an edgy series in the vein of Game of Thrones. The show is named after the Red Brick Road, which is visible in the classic 1939 film, swirled together with the Yellow road in Munchkinland.
Premise
From Deadline.com:
In the classic 1939 feature, when Dorothy set off for the Emerald City, she followed the Yellow Brick Road. But among the yellow bricks at Dorothy's feet, there was also a swirl of red bricks. They've been there the whole time in plain sight. Unnoticed. Unexplored. Which raises the question — just where do they go? Red Brick Road will answer that by following Dorothy down that fateful path, taking her to the oldest, darkest and most dangerous parts of Oz to find what became of her friends who all have gone missing.
Promotional Art
Triva
In the season one finale of the Lifetime series Witches of East End, there is a possible hint to the new series with Penelope Gardiner stating she used 'Red Brick dust' in a magic circle to bound Joanna. (unconfirmed speculation)
External Links