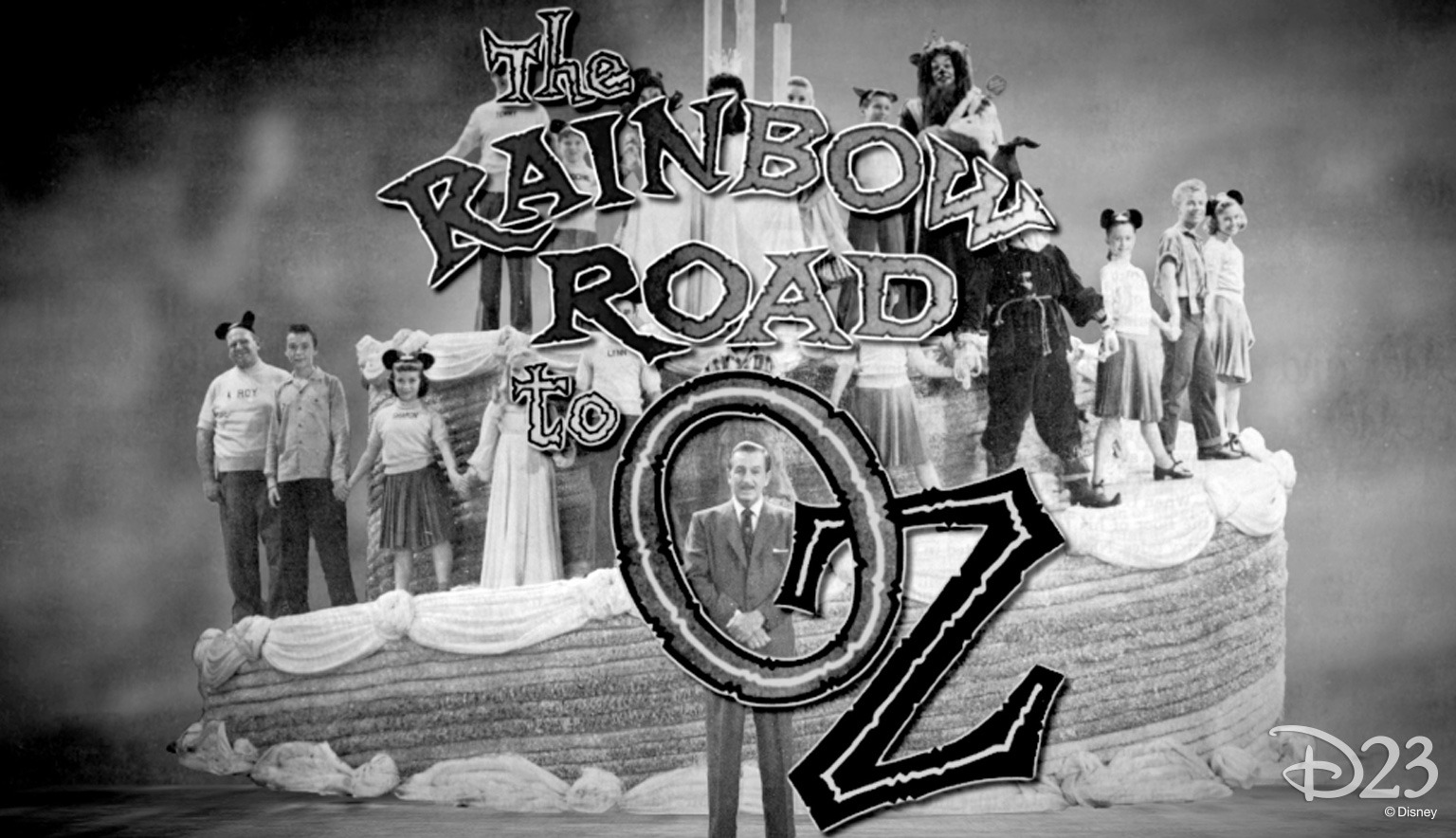 Rainbow Road to Oz is an unfinished film project that was being worked on by Walt Disney Pictures. A preview aired on September 11, 1957 on Walt Disney's Disneyland and it featured Walt Disney himself looking over and approving the project after being pursuaded by members of the Mickey Mouse Club.
Background
Since Walt Disney was unable to create an animated movie based on The Wonderful Wizard of Oz as MGM beat him to it with the 1939 film, he was determined to make an Oz movie in buying the copyrights to the other 13 books by L. Frank Baum in 1954.
The show Walt Disney's Disneyland usually showed movies and other segments related to new film production. The pacticular clip is from The Fourth Anniversary Show which was the first episode of season four as the "Mouseketeers" were going to be the main cast members. Depsite newspaper coverage stating that the film was going to be made, it was eventually canceled and is said to have been replaced with 1961's Babes in Toyland (which ironically featured Ray Bolger).
Known plot
Dorothy returns to Oz to find her friend the Cowardly Lion as the new ruler, however an evil spell has been cast on him but the son of the Wicked Witch.
Cast
Songs
Various songs were recorded for the eventual film that was never made, the other songs were released on different LP Oz based records but it is unknown which ones are exactly from this project.
Featured in preview:
Patches
Oz Kan-Hop
Rainbow Road to Oz
Trivia
Had it been made, it would have featured the first film appearace of the Patchwork Girl since the 1914 silent film The Patchwork Girl of Oz.

The same also goes for Ozma

This would have been the first adaptation to feature the Cowardly Lion as the ruler of Oz, seemingly coming after the Scarecrow.
This also would have been the first to feature a son of the Wicked Witch, this concept would not appear again until Gregory Maguire included his new character Liir in his Wicked series who is featured prominentatly in Son of a Witch.
Media
10:22

Walt Disney's Wizard Of Oz
Ad blocker interference detected!
Wikia is a free-to-use site that makes money from advertising. We have a modified experience for viewers using ad blockers

Wikia is not accessible if you've made further modifications. Remove the custom ad blocker rule(s) and the page will load as expected.