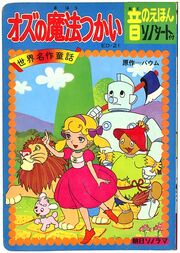 Ozu no Mahoutsukai is a Japanese picture book edition of The Wonderful Wizard of Oz, published by Asahi Sonorama of Tokyo in 1980. The translation and adaptation are by Atsuko Nakamura and the illustrations are by Satoru Inoue.
This picture-book Wizard contains only twelve pages and most of them are double page spreads, many of which are quite attractive, though the style is a bit cartoony. It also includes a small phonograph record (playing time about fifteen minutes) of the story, using different voices for each character and with Oz songs sung in Japanese.
Reference
Ad blocker interference detected!
Wikia is a free-to-use site that makes money from advertising. We have a modified experience for viewers using ad blockers

Wikia is not accessible if you've made further modifications. Remove the custom ad blocker rule(s) and the page will load as expected.