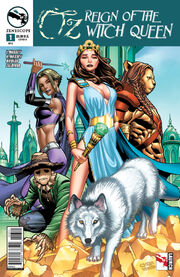 Oz: Reign of the Witch Queen is a six part comic book series released from April-December 2015 written by Jeff Massey and Kristin Massey. It is a spin-off of the ongoing Grimm Fairy Tales series published by Zenescope Entertainment and is sequel to other spin-offs such as Grimm Fairy Tales Present Oz, Tales from Oz and  Warlord of Oz.
Description
The witch Zamora and the murderous Warlord have been routed, but for how long? As Thorne, Scarecrow, Tin Man, Smynth, and Adraste rally the good people of Oz, civil war and flying monkeys threaten the Realm of Hope. Dorothy Gale saved Oz once before, but who will save it from Dorothy Gale?
Ad blocker interference detected!
Wikia is a free-to-use site that makes money from advertising. We have a modified experience for viewers using ad blockers

Wikia is not accessible if you've made further modifications. Remove the custom ad blocker rule(s) and the page will load as expected.