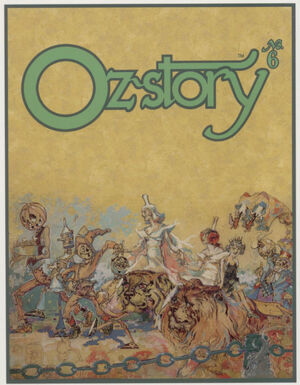 Oz-story Magazine is a periodical of Oz fiction that was issued in six annual issues from 1995 to 2000. It was edited by David Maxine and Eric Shanower and published by Hungry Tiger Press. The annual featured stories and poems by all of the major Oz authors, L. Frank Baum, Ruth Plumly Thompson, Rachel Cosgrove, and others, plus the work of many Oz illustrators. The original publication of Eloise Jarvis McGraw's The Rundelstone of Oz occurred in the annual's final issue.
The Magazine featured work by contemporary writers as well as Royal Historians, including:
Perhaps most notably, Oz-story Magazine reprinted rare and inaccessible works by Baum:
Oz-story also reprinted some Oz comic strips, including samples of Queer Visitors from the Marvelous Land of Oz, The Wonderland of Oz, and Denslow's Scarecrow and Tin Man.
Ad blocker interference detected!
Wikia is a free-to-use site that makes money from advertising. We have a modified experience for viewers using ad blockers

Wikia is not accessible if you've made further modifications. Remove the custom ad blocker rule(s) and the page will load as expected.