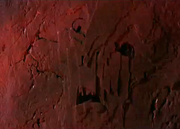 The Nome Messenger is a loyal servant of the Nome King who acts as a spy and informant on his behalf. He could observe what the 'guests' were doing while they were elsewhere in the cavern, like when they were guessing at which ornaments were transformed people. (Return to Oz)
He is a minor character from the 1985 film Return to Oz. He was portrayed in the film by Pons Maar.
He may be based on Kaliko.