Ad blocker interference detected!
Wikia is a free-to-use site that makes money from advertising. We have a modified experience for viewers using ad blockers

Wikia is not accessible if you've made further modifications. Remove the custom ad blocker rule(s) and the page will load as expected.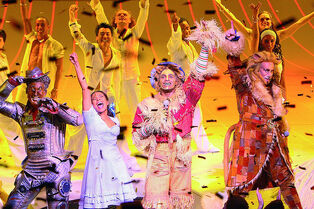 "
Nieuwe dag
"  is the dutch version of "
Everyone Rejoice
" but translates out to simply "New Day"
Nieuwe dag lyrics
Zeg het allemaal voort
de lange weg omhoog begint vandaag
het komt allemaal goed
geef de boodschap door van hoog tot laag
we zijn allemaal moe
maar we beginnen met een schone lei
als je allemaal vecht
dan is de lange nacht voorgoed voorbij
zie hoe het waait
hoe de regen op de velden valt
voel op je huid
hoe het zonlicht uit de hemel knalt
Kijk dan - voel dan - huil en lach
goeiemorgen nieuwe dag
klinkend als een mokerslag
goeiemorgen nieuwe dag
Geef het allemaal door
hoe het moet en hoe het anders kan
leg het allemaal bloot
daar word de hele wereld beter van
hee hallo!
we zullen samen in de branding staan
brother, yo!
en met z'n allen door de stormen gaan
in harmonie
omdat we allemaal het zelfde zijn
nu zij we vrij
en voor niemand is het huis te klein
kijk om je heen
wees een heel klein beetje kleurenblind
dan zul je zien
hoe d'r een fonkelnieuwe dag begint
Kijk dan - voel dan - huil en lach
goeiemorgen nieuwe dag
klinkend als een mokerslag
goeiemorgen nieuwe dag
Geef het allemaal door
hoe het moet en hoe het anders kan
leg het allemaal bloot
daar word de hele wereld beter van
hee hallo!
we zullen samen in de branding staan
broter, yo!
en met z'n allen door de stormen gaan
in harmonie
omdat we allemaal het zelfde zijn
nu zijn we vrij
en voor niemand is het huis te klein
kijk om je heen
wees een klein beetje kleuren blind
dan zul je zien
hoe d'r een fonkel nieuwe dag begint
Kijk dan - voel dan - huil en lach
goeiemorgen nieuwe dag
klinkend als een mokerslag
goeiemorgen nieuwe dag
kijk dan - voel dan - huil en lach
goeiemorgen nieuwe dag
klinkend als een mokerslag
goeiemorgen nieuwe dag