Ad blocker interference detected!
Wikia is a free-to-use site that makes money from advertising. We have a modified experience for viewers using ad blockers

Wikia is not accessible if you've made further modifications. Remove the custom ad blocker rule(s) and the page will load as expected.
"My lady fair, why do you stare at poor old Mr. Joker? You're quite as stiff and prim as if you'd eaten up a poker! "
―The China Joker (1900)
Mr. Joker is the silly Joker Clown who lives in the little hidden enclave known as the Dainty China Country, of Quadling Country in the southern quadrant of the magical Land of Oz. Like everyone in the China Country he is made of porcelain china and is only knee high. He is very clumsy. The China Joker is so clumsy infact, that he has multiple cracks running all through his entire body from falling down so many times as it is stated in the book he enjoys balancing on top of his head. His pretty clothes are red, yellow, and green, but he has been mended many, many times and is cracked in the head. In fact, his entire body is covered with cracks. (The Wonderful Wizard of Oz)
Return to Oz 1985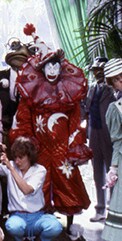 In Disney's Cult Classic film Return to Oz, a life size Mr. China Joker can be seen in the parade coronation scene towards the end of the film.