Ad blocker interference detected!
Wikia is a free-to-use site that makes money from advertising. We have a modified experience for viewers using ad blockers

Wikia is not accessible if you've made further modifications. Remove the custom ad blocker rule(s) and the page will load as expected.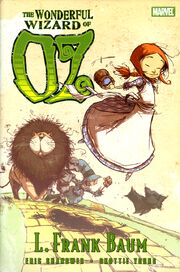 Marvel Comics is a comic book company that has published graphic novel adaptions of the first six Oz books by L. Frank Baum. The adaptions were written by Eric Shanower with art made by Skottie Young. The series was intended to cover all 14 books but ended with The Emerald City of Oz due to declined sales. The comics were published by Marvel which completed their first Oz series before Disney brought the company and therefore the other five were published after the merger. 
Collected books:
The Wonderful Wizard of Oz (8 issues; 2009)
The Marvelous Land of Oz (8 issues; 2010)
Ozma of Oz (8 issues; 2011)
Dorothy & The Wizard in Oz (8 issues; 2012)
Road to Oz (6 issues; 2013)
The Emerald City of Oz (5 issues; 2014)
Oz Omnibus (all 43 issues; 2014)