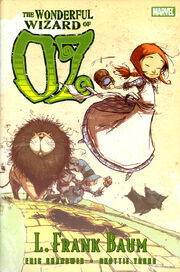 Marvel Comics is a publishing company that has adapted various Oz books into comics. In 1975, they released MGM's Marvelous Wizard of Oz in collaboration with DC comics, which was based on the 1939 film. In the same year, they released Marvel Treasury of Oz: The Marvelous Land of Oz which adapted the second book. They had plans to release Marvel Treasury of Oz: Ozma of Oz in 1976, but unfortunately, they were unable to do so because of copyright issues as rights to the book Ozma of Oz did not expire until 1983. By then, the Marvel Treasury logo had been phased out.
In 2008, Oz was featured in the 4th issue of Avengers Fairy Tales with She-Hulk as Dorothy, Captain America as the Cowardly Lion, Iron Man as the Tin Man, Thor as the Scarecrow, Magneto as the Wizard, and Scarlet Witch as the Wicked Witch of the West.
Starting in 2009, the company published new graphic novel adaptions of the first six Oz books. These adaptions were written by Eric Shanower with art made by Skottie Young. The series was intended to cover all 14 books but ended with The Emerald City of Oz due to declined sales. Marvel had completed the Wonderful Wizard series before Disney brought the company and therefore the other five were published after the merger. 
Collected books:
The Wonderful Wizard of Oz (8 issues; 2009)
The Marvelous Land of Oz (8 issues; 2010)
Ozma of Oz (8 issues; 2011)
Dorothy & The Wizard in Oz (8 issues; 2012)
Road to Oz (6 issues; 2013)
The Emerald City of Oz (5 issues; 2014)
Oz Omnibus (all 43 issues; 2014)
Trivia
The 1975 MGM book was the first ever collaboration between Marvel and DC.

A letter written by Roy Thomas in 1986 included at the end of issue one in The Oz/Wonderland War explains much of what happened to the 3rd Marvel adaptation. He explains that the 1970s series was Stan Lee's idea and that he had been creating the outline for a Dorothy and the Wizard in Oz adaptation before it was cancelled. At the time, he stated the Ozma adaption was still in the vaults but somewhat deteriorating. He also notes that he didn't like MGM's vision to have the Hungry Tiger  stand on two legs just like the Cowardly Lion did in the film.
Ad blocker interference detected!
Wikia is a free-to-use site that makes money from advertising. We have a modified experience for viewers using ad blockers

Wikia is not accessible if you've made further modifications. Remove the custom ad blocker rule(s) and the page will load as expected.