"One was quite full of square paper boxes, which grew in clusters on all the limbs, and upon the biggest and ripest boxes the word "Lunch" could be read in neat raised letters. This tree seemed to bear all the year around, for there were lunch-box blossoms on some of the branches, and on others tiny little lunch-boxes that were as yet quite green, and evidently not fit to eat until they had grown bigger. The leaves of this tree were all paper napkins, and it presented a very pleasing appearance to the hungry little girl. "
―Ozma of Oz (1907)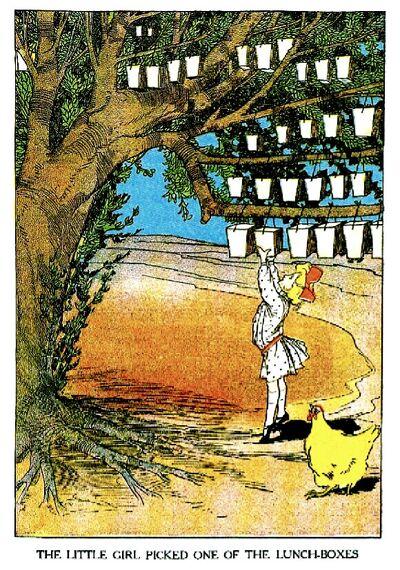 The Lunch-Box Tree is a fictional tree created by L. Frank Baum. It appears in Baum's third Oz book titled Ozma of Oz, published in 1907. Along with the Dinner-Pail Tree, it grows in the enchanted country known as the Land of Ev, where the bad-mannered creatures called Wheelers, and Tik-Tok the mechanical copper man lived under the reign of the Royal Family and the vain Princess Langwidere.
The lunch-box tree grows near the Wheeler Country in the Land of Ev, a fairy country that neighbours the Land of Oz, separated by the Deadly Desert that cuts the magical lands from the rest of the world. There is only one known example of this type of tree, although a Dinner-Pail Tree grows nearby. The trees belong to the Royal Family of Ev, although they are falsely claimed by the Wheelers.
When Dorothy Gale and Billina the talking hen are shipwrecked during a storm on their way to Australia, they find the lunch-box and dinner-pail trees shortly after arriving on dry land. Dorothy picks a box with a yummy meal inside to eat.
The lunch-box tree's leaves are paper napkins. Clusters of square paper boxes grow at various stages of maturity on a separate stem and wrapped in white paper. The one Dorothy picked contained:
A ham sandwich
A piece of spongecake
A pickle
A slice of cheese
An apple
According to Dorothy, the entire meal is delicious. (Ozma of Oz)
Return to Oz
In Walt Disney's 1985 cult classic film, Return to Oz, the lunch-box trees are altered to "Lunch-Pail" ones that grow on the shores of the magical Land of Oz. When Dorothy sees them this assures her that she is truly in Oz again. When she picks one of the ripe pails, she opens it to see what's inside which is a ham sandwich. Billina then jokes that she's "Glad it wasn't fried chicken".
References
In comic book series Fables, Bufkin the monkey returns to the land of Ev via an enchanted lunch-box tree (issue 101 p. 14-15).