This article is about the novel trilogy. For the television pilot, see Lost in Oz (pilot). For the Amazon.com webseries see Lost in Oz (web series).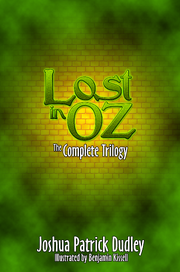 Lost in Oz is a trilogy of non-canonical novels written by Joshua Patrick Dudley and published by JDuDs Productions. It is a further continuation of the Oz Series originally started by L. Frank Baum in 1900.
Series Synopsis
The first novel was released in April of 2007. It follows modern day teenagers, Joshua Dudley, Tamara Dudley, Laura Coleman and Tommy Murphy who have mysteriously ended up in the story of The Wonderful Wizard of Oz, and have time traveled back to 1899, when the novel was first written. Their interactions with the magical country and its inhabitants begin to alter the history of Oz. A prophecy is revealed for the teens as they try to find their way home. They meet famous Oz characters including Dorothy Gale, the Scarecrow, the Tin Woodman, the Cowardly Lion, Jack Pumpkinhead, the Patchwork Girl, the Wicked Witch of the West and the Wizard of Oz, himself.
The second novel, Rise of the Dark Wizard, was released in 2008 and continues the adventures of the Dudley twins and their friends. This time, they must deal with the consequences of their actions in the first novel, when a new power rises in Oz. The Dark Wizard plans to steal Glinda's Great Book of Records to set all of the most evil plots in Oz history into motion at once. Yet another prophecy surfaces and the teens struggle to find a way out of Oz permanently, without damaging its history any more than they already have.
The third and final novel of the trilogy, Temple of the Deadly Desert, was released in June of 2011 and began where book two left off. This time, the teens must come to terms with Oz and how it affects their life in their home state of New Hampshire. They again traveled back to Oz, to finally fulfill their destiny and take their proper place in the country's history.
The collected trilogy, featuring updated storylines, edits and artwork was released in 2018.
Illustrations and Artwork
All three Lost in Oz novels feature illustrations by W. W. Denslow, the original illustrator of The Wonderful Wizard of Oz.
A few pieces of art, created by the second Oz illustrator, John R. Neill, are featured in the first novel.
Customized computer art was created by the author to accompany each chapter of all three novels.
Benjamin Kissell took over as the illustrator for the collected trilogy.
External links