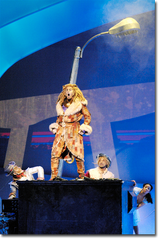 " Linke Leeuw " is the dutch verison of " I'm A Mean Ole Lion " but it translates " Risky Lion".
Linke Leeuw lyrics
Hoor je me grommen
zie je deze muil
ben een linke leeuw
En ik zou hier niet komen
want ik vecht nogal vuil
ik ben een flinke leeuw
Ik sla je beurs en bont en blauw
kom op ik lust je rauw
klop je zomaar aan m'n deur
dan hangt het af van mijn humeur
of ik je plat stamp of verscheur
ik ben een linke leeuw
Maak me niet kwaad
want je ziet wat hier staat
een bloedje linke leeuw
een vechtautomaat
die tot het uiterste gaat
een hele linke leeuw
Je bent hier wel op verboden gebied
ik ben de koning der dieren hoor
meer zeg ik niet
Ik heb genade deze keer
nou ga dan als een speer
zo dadlijk zeg ik het niet meer
ben een linke leeuw
Ben een linke leeuw
Ad blocker interference detected!
Wikia is a free-to-use site that makes money from advertising. We have a modified experience for viewers using ad blockers

Wikia is not accessible if you've made further modifications. Remove the custom ad blocker rule(s) and the page will load as expected.