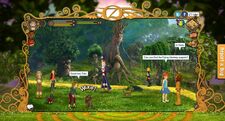 Legends of Oz World was a free to play virtual world browser adventure game based on Legends of Oz: Dorothy's Return.
Servers running around the film's release, it was likely taken down because of the movie being a commercial failure along with a need to maintain the game.
Description:
Serving as a prequel to the film, the virtual world picks up right after Dorothy returns to a Kansas devastated by a tornado. Players must team-up with Dorothy and Toto to save Oz by reuniting with the timeless characters Tin Man, Cowardly Lion and Scarecrow. Throughout their journey, players will explore new lands that will appear in the film, including China Country, Candy County, and the Talking Tree Forest. Legends of Oz World features multiplayer games, 30 story quests and more than 1,000 collectible items.
At one point a payable membership option was available to recieve special items.
Players can take control of their own customized characters, as well as Toto, who is the player's permanent sidekick. Different players will have a different version of Toto, but within the storyline, all are considered to be Dorothy's Toto.
Gallery
External Links
Ad blocker interference detected!
Wikia is a free-to-use site that makes money from advertising. We have a modified experience for viewers using ad blockers

Wikia is not accessible if you've made further modifications. Remove the custom ad blocker rule(s) and the page will load as expected.