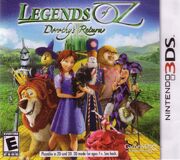 The Legends of Oz: Dorothy's Return Video Game was released in 2014 for the Nintendo 3DS available in limited box cartages and digitally in the Nintendo eStore. It was produced by GameMill Entertainment as a match three puzzle game based on the 2014 film of the same name.
Game Description:
When Dorothy clicked the heels of her ruby slippers and returned home to Kansas, did you always wonder what happened next? Now, with Legends of Oz: Dorothy's Return, you'll get the chance to return to the iconic yellow brick road in this sequel story to the classic tale. The merry old land of Oz is in trouble and needs Dorothy's help. Jester has taken over the kingdom, and you must join Dorothy on her journey to dethrone him in order to restore peace to the realm. It's time to put your brains, heart and courage to the test to save the land of Oz. Legends of Oz: Dorothy's Return takes you on a fun-filled, puzzle-solving trek through the merry old land of Oz to help restore tranquility to the kingdom. Join Dorothy and use your Nintendo 3DS to solve challenging puzzles across more than 30 levels and four thrilling game modes. Unlock fun content, and enjoy edge-of-your-seat gameplay that provides hours of replayability. Just click your heels and say "There's no place like Oz."
Trivia
Ad blocker interference detected!
Wikia is a free-to-use site that makes money from advertising. We have a modified experience for viewers using ad blockers

Wikia is not accessible if you've made further modifications. Remove the custom ad blocker rule(s) and the page will load as expected.