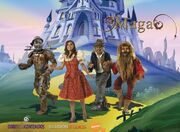 La Maga (English: The Wizardess) is a 2008 spanish-language telenovela TV series, loosely based on The Wonderful Wizard of Oz.
Synopsis
From official website:
An updated version based on the unforgettable classic "The Wizard of Oz", a magical story of love and adventure, where fantasy and reality meet and dreams come true.
Dorothy, a poor and clumsy girl, dreams of becoming a fairytale princess.
With no love and with only her young friend Toto to accompany her, she dreams of visiting other worlds and transforming her dull life for a greater destiny. It seems just a dream, until a storm changes everything. As she travels along the road to Oz, she will find spiritual "keys" that will allow her to resolve conflicts and discover her identity as well as winning love.
External Links
Ad blocker interference detected!
Wikia is a free-to-use site that makes money from advertising. We have a modified experience for viewers using ad blockers

Wikia is not accessible if you've made further modifications. Remove the custom ad blocker rule(s) and the page will load as expected.