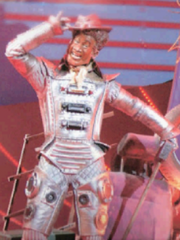 " Koninklijke Olie "  is the dutch version of " Slide Some Oil To Me". which translates out to "Royal Oil".
Koninklijke Olie lyrics
Koninklijke olie, wrijf het maar lekker in
Schouder, schouder, ruggegraat, Oh,Das een goed begin
Olie op mijn golven
Olie op mijn vuur
Brand hier in de olie-tijd
Reed zich op den duur
Zet mij in de olie
Maak m'n remmen los
Als je niet bewegen kan, dan is het eenzaam hierin Oz
Laat het lekker druipen
Ik ben een smeerkees tot en met
En van m'n heupen naar beneden toe, Oeh, Oeh, Oeh
Dat voelt zo vet!
Smeer m'n tenen alle tien, Yes!
En ik was ze kwijt, Oh!
Het is wonder-olie, lieve schat,
Voel je hoe lekker, Oh dat glijdt
Koninklijke olie,
Wordt geweldig gewaardeerd
En smeer het laatste beetje in m'n haar,
Dan loopt het zooitje weer gesmeerd (2x)
Oh yeah!
Dan loopt het zooitje weer gesmeerd
Hid it! Oh yeah! Hahaha, Oh!
Dan loopt het zooitje weer gesmeerd
Alles weer gesmeerd
Dan loopt het zooitje weer gesmeerd
Oh lekker!
Ad blocker interference detected!
Wikia is a free-to-use site that makes money from advertising. We have a modified experience for viewers using ad blockers

Wikia is not accessible if you've made further modifications. Remove the custom ad blocker rule(s) and the page will load as expected.