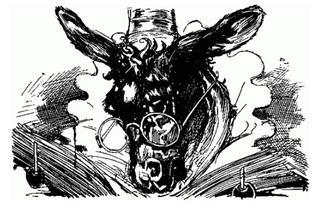 King Kik-a-bray
is the ruler of the village of
Dunkiton
.
Description
He has a wide head with big ears and round, solemn eyes. He wears a big gold crown and carries a golden staff between his front hoofs.
His palace is just like the other houses in Dunkiton. There are mats of woven grass on the floor, but no other furniture. His favorite servant is a little brown donkey.
History
King Kik-a-bray was so impressed by the Shaggy Man's flattering speech when they met, that the king transformed his head into that of a donkey. He then asked Dorothy Gale for an invitation to Ozma's birthday party, which he was later able to attend. (The Road to Oz)
Ad blocker interference detected!
Wikia is a free-to-use site that makes money from advertising. We have a modified experience for viewers using ad blockers

Wikia is not accessible if you've made further modifications. Remove the custom ad blocker rule(s) and the page will load as expected.